We recognize that all of our patients are unique and deserve to receive orthodontic care that reflects their individual needs. Our experienced and talented team is committed to working with you and your family to create a comfortable, stress-free, and rewarding orthodontic experience every time you visit our practice.
We are pleased to welcome you and your family, and we look forward to working with you.
---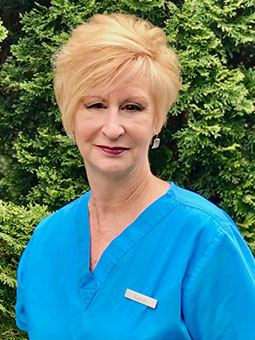 Karen
Orthodontic Assistant and Inventory Manager
I love watching smiles transform and seeing introverted children mature into confident, outgoing young adults. I also enjoy bonding with our adult patients over common interests and hobbies.
As a chairside assistant, I help to place braces and other orthodontic appliances, as well as arch wire adjustments. In addition to my chairside duties, I am also in charge of ordering our orthodontic supplies. I joined the practice in 1997 and love that we all have fun while supporting each other and our patients!
Outside the office, I enjoy being with my spouse and best friend for over 40 years, along with our two daughters and their families. In the summer, I enjoy time at the pool and tending to my flowerbeds; during the winter, nothing is better than a snowstorm and a good book!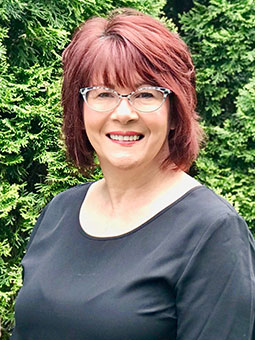 Kathie
Treatment Coordinator
I love meeting and getting to know all of our patients. I now have the pleasure of seeing past patients return with their children: this is so touching and means the world to us!
As treatment coordinator, I have the privilege of being the first person to work with our new patients. I listen to their concerns, learn what brought them to the office, and get to know them and their family. I take orthodontic records, which helps Dr. Loftus as he develops our patients' treatment plans. I then review the treatment plans with our patients and parents, and answer their questions. Additionally, I communicate the plans with our referring dentists. I've been with the practice since 2001. Our office feels like a warm, friendly family and we welcome our patients with genuine smiles!
I enjoy my time off, whether I'm crafting, flower arranging, gardening, or strengthening my skills as a backyard bird watcher. I have been married for 35 years and have two grown children and two beautiful granddaughters.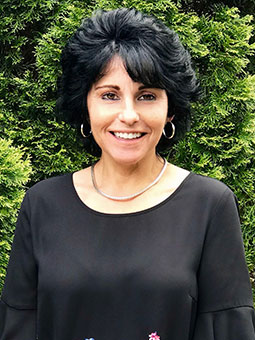 Lisa
Administrative Assistant
I enjoy interacting with our patients and their families. It's fun to get to know them personally and catch up on their latest news during visits. Since I work at the front desk, I get to see how each person's smile changes – and how that affects their self-esteem!
I greet and check in patients, answer the phones, and schedule visits. I also confirm appointments and handle correspondence with patients/families and referring dentists. Our team feels like a second family to me: I've been here since 1990 and still love coming to "work"!
On my days off, I enjoy being with my family and my two black Labradors. I also like camping in the fall and, when the weather is nice, I enjoy swimming and gardening at my house.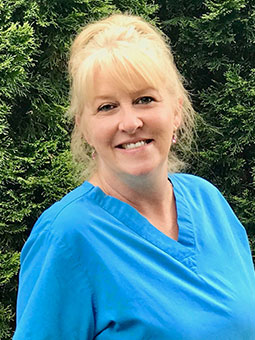 Mary
Orthodontic Assistant
I really like interacting and spending time with our patients. I especially enjoy our younger patients. I try to get to know them well throughout treatment and do my best to make the process fun and enjoyable for each.
Working in the clinic, I assist Dr. Loftus with placing appliances and braces, arch wire adjustments, and other orthodontic procedures. In addition to my chairside duties, I also help with lab work, making custom retainers and mouthguards. I found my professional home and family here in 2012. I love that we are here for each other as we serve our patients!
Much of my free time is spent with my spouse and five marvelous grandchildren, as well as my parrot, Sydney. I enjoy going to sporting events, especially when my grandkids are involved. I also like crafts, and really enjoy painting!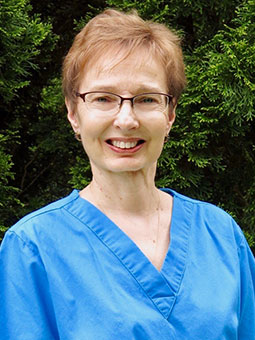 Shoshanna
Orthodontic Assistant and Clear Aligner Coordinator
I love to interact with our patients and watch their smiles change! When a person feels comfortable with their smile, they're more confident and happier, and that shows in everything they do!
I work chairside in the clinic, assisting Dr. Loftus with arch wire adjustments, placing appliances and braces, and supporting our patients. I also coordinate our patients who are being treated with clear aligners by taking PVS impressions or intraoral scans. I love working with people who feel like an extension of my family. I graduated from Mansfield University with a Bachelors degree in biology. I am a certified orthodontic assistant and have been here since 2000 and know it's the best office!
Outside of work, I enjoy spending time with my family, friends, and my cat, Sandy. I love volunteering for Musikfest and Christkindlmart and am an avid traveler, both in the US and abroad. I'm also a big Yankees fan and enjoy going to their games, as well as Iron Pigs and Phantoms games with my brother.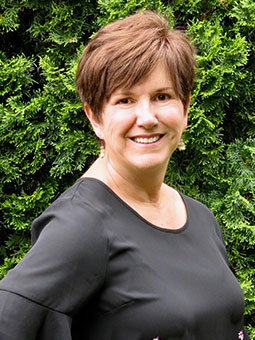 Sue
Financial Coordinator
I enjoy helping our patients afford treatment. Having a healthy, beautiful smile really changes a person's life and I'll do all I can to make the financial end of treatment a breeze!
I work with patients and parents to find financial options that fit with their budget and make treatment affordable. I also verify their insurance benefits, help process that paperwork, and manage our accounts receivable. I joined the practice in 2002 and love that we have such a fun, caring team that cares about each other and our patient family!
When not working, my priority is time with my family. My husband Ray and I have been married for almost 40 years. We have three children, four grandchildren, and three grand dogs! Cooking, gardening, going to be beach, and relaxing by the pool are all things I enjoy when I'm not in the office. I also like going to the shooting range with Ray.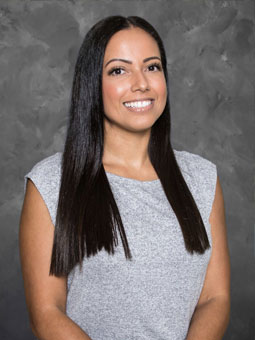 Rocio
Laboratory Technician
I love watching the transformation of our patients' smiles and seeing how their confidence grows at each visit! It is so rewarding to know I was part of making each person's smile perfect!
I manage everything related to our in-house orthodontic laboratory. Using software, I create models that are then 3D printed. Once the models are printed, I turn them into clear retainers custom to each patient. On busy days, I help out as treatment coordinator, greeting and getting to know our new patients and families. I have been working in the dental field for over ten years and found my professional home here in 2020. This is a compassionate, wonderful team!
In my free time I enjoy spending time with my husband and my teenage daughter. I love to travel to new places, as well as experience everything the Lehigh Valley has to offer. I love a good spa day! In the summer I like to relax by my pool with friends and soak up the sun!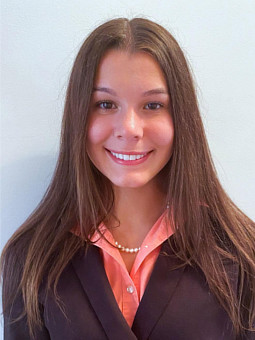 Veronica
Laboratory Technician / Chairside Assistant
I am the latest addition to an extraordinary team here at Easton Orthodontics. I split my time, working as a lab technician and a chairside assistant. When I work in the lab, I make retainers and other orthodontic appliances. I use software to make models on a 3D printer. Once I make the retainers, I trim and polish them for each individual patient. As a chairside assistant, I love meeting new patients and helping them with their orthodontic needs. It is amazing to see that I have helped perfect each person's smile.
Outside of work, I enjoy hanging out with friends and family. In my free time, I love to be involved in a lot of outdoor activities including hunting, fishing, and snowboarding. I also like to travel to new and fun places!